Abbs Brian, Barker Chris:

Snapshot New Edition Pre-Intermediate Language Booster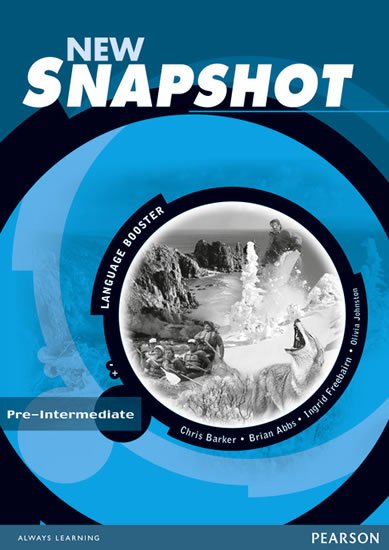 Doporučená cena: 519,- Kč
Naše cena:

467

,- Kč
(sleva 10 % - ušetříte 52 Kč)

Autor: Abbs Brian, Barker Chris
Druh vazby:

Knihy - paperback


Počet stran:

24


Rozměr:

210 x 297 mm


Vydáno:

2003-04-01


Stav:

Skladem v externím skladu


Datum odeslání:

Do týdne




EAN:

9780582779488


Nakladatelství:

Edu-Ksiazka Sp. S.o.o.




Sdílejte na Facebooku
With New Snapshot you can: * Capture Students' interest and imagination though real characters and language, and up-to-the-minute teenage topics * Bring language to life * Widen students' experience of international culture through new culture pages, new projects and a new teenage lifestyles video. * Provide extra support with the unique Language Booster a Workbook and Grammar builder in one, now with Boost Your Writing sections to improve students' performance in the skill area. * Solve the problem of mixed ability classes with exercises at three levels of difficulty in the Language Booster.





Zatím nikdo nehodnotil.


Nabízené knihy od stejného autora(autorky):
Abbs Brian, Barker Chris: New Sky 1 Students´ Book
Abbs Brian, Barker Chris: New Sky 2 Students´ Book
Abbs Brian, Barker Chris: New Sky 3 Students´ Book
Abbs Brian, Barker Chris: New Sky Starter Students´ Book
Abbs Brian, Barker Chris: Sky 1 Students´ Book
Abbs Brian, Barker Chris: Sky 2 Activity Book w/ CD Pack
Abbs Brian, Barker Chris: Sky 3 Students´ Book
Abbs Brian, Barker Chris: Sky Starter Students´ Book
Abbs Brian, Barker Chris: Snapshot New Edition Pre-Intermediate Student´s Book
Abbs Brian, Barker Chris: Snapshot New Edition Elementary Language Booster
Abbs Brian, Barker Chris: Snapshot New Edition Intermediate Language Booster
Abbs Brian, Barker Chris: Snapshot New Edition Intermediate Student´s Book
Abbs Brian, Barker Chris: Snapshot New Edition Starter Language Booster
Abbs Brian, Barker Chris: Today! 3 Students´ Book w/ MyEnglishLab Pack