Xiaolan Teng:

Beautiful Days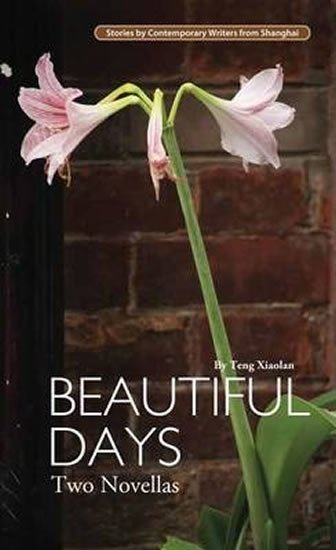 Doporučená cena: 299,- Kč
Naše cena:

269

,- Kč
(sleva 10 % - ušetříte 30 Kč)

Autor: Xiaolan Teng
Druh vazby:

Knihy - paperback


Počet stran:

255


Rozměr:

107 x 172 mm


Vydáno:

2013-04-22


Stav:

Výprodej - poslední kusy


Datum odeslání: viz. obchodní podmínky

ISBN: 978-1-60220-235-1
EAN:

9781602202351


Nakladatelství:

Folio, spol.s r.o.




Sdílejte na Facebooku
This book of contemporary Chinese literature contains two separate novellas, A Riot of Brilliant Purple and Tender Crimson and Beautiful Days. A Riot of Brilliant Purple and Tender CrimsonThis novel is about the love lives of a father and daughter pair. The heroine is Xiang Yijun, a government officer who is greatly influenced by her Peking Opera performer father. She is fond of singing this type of opera, but the old fashion hobby sets her apart from others who see it as peculiar. It doesn't help with her search for Mr. Right either. But one day, she meets Mao An, who not only is interested in Peking Opera, but he also wants her to be his teacher. Yijun believes it's destiny and quietly accepts the developing relationship with Mao An, even when she finds out that he had asked another girl to be his teacher before her. Meanwhile, Yijun's usually self-contained father is inspired by a love expert on the Internet and falls secretly in love with a female neighbor. The novel plot echoes the lyrics in the Kun Opera The Peony Pavilion though the flowers are in great bloom, they are only appreciated by broken walls. Beautiful DaysThe novel is a very simple story of a 70-year-old Shanghai woman who wants to pick a satisfactory daughter-in-law for her baldheaded son. This son was once infected by polio and the only thing he can be proud of is the fact that he was born in Shanghai and lives there. Yao Hong, a widow from Jiangxi Province, is hired as the housekeeper for this family, but later becomes the wife of the son. Fighting and arguing ensues between Yao Hong and her mother-in-law, but after some time the two women learn to accept each other, acknowledging that life is full of surprises and that the unexpected can perhaps be a good thing after all. The novel, focusing on daily subjects, is detailed in description. Extraordinary lives are reflected by ordinary people. The beauty of everyday is found in the motions of life.





Zatím nikdo nehodnotil.