neuveden:

Top 10 Prague : 2020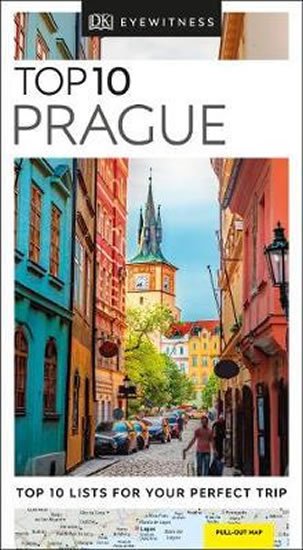 Doporučená cena: 269,- Kč
Naše cena:

242

,- Kč
(sleva 10 % - ušetříte 27 Kč)

Autor: neuveden
Druh vazby:

Knihy - paperback


Počet stran:

160


Rozměr:

104 x 191 mm


Vydáno:

2019-08-01


Stav:

Skladem v externím skladu


Datum odeslání:

Do týdne



ISBN: 978-0-2413-6491-8
EAN:

9780241364918


Nakladatelství:

Bohemian Ventures, spol. s r.o.




Sdílejte na Facebooku
The UK's best-selling pocket guides - an unbeatable guide to Prague, packed with insider tips and ideas, detailed maps and a laminated pull-out map, all designed to help you see the very best of Prague. Admire the Gothic splendour of the Old Town, marvel at the architectural treasures such as Prague Castle and the grand St Vitus's Cathedral, unwind at a traditional pub, or wander through the Baroque streets of Mala Strana. From Top 10 performing arts venues to Top 10 things to do for free - discover the best of Prague with this easy-to-use travel guide. Inside Top 10 Prague: - Eight easy-to-follow itineraries, perfect for a day trip, a weekend, or a week - Top 10 lists showcase the best attractions in Prague, covering Prague Castle, Old Town Square, Charles Bridge, the Loreto and more - Free laminated pull-out map of Prague, plus six full-colour area maps - In-depth area guides explore Prague's most interesting neighbourhoods, with the best places for shopping, going out and sightseeing - Colour-coded chapters divided by area make it easy to find information quickly and plan your day - Essential travel tips including our expert choices of where to stay, eat, shop and sightsee, plus useful transport, visa and health information - Colour maps help you navigate with ease - Chapters covering Old Town, Mala Strana, Prague Castle and Hradcany, Josefov, New Town, and more Staying for longer and looking for a more comprehensive guide to Prague? Try our DK Eyewitness Travel Guide Prague. About DK Eyewitness Travel: DK's Top 10 guides take the work out of planning a short trip, with easy-to-read maps, tips, and tours to inform and enrich your weekend trip or cultural break. DK is the world's leading illustrated reference publisher, producing beautifully designed books for adults and children in over 120 countries.





Zatím nikdo nehodnotil.