Barraclough Carolyn:

Activate! B1 Students´ Book w/ DVD Pack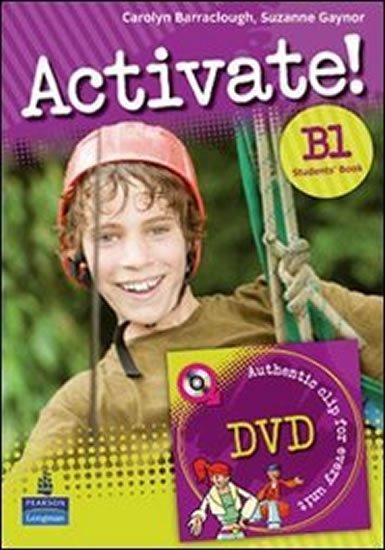 Doporučená cena: 1093,- Kč
Naše cena:

984

,- Kč
(sleva 10 % - ušetříte 109 Kč)

Autor: Barraclough Carolyn
Druh vazby:

Knihy - paperback


Rozměr:

210 x 296 mm


Vydáno:

2012-01-01


Stav:

Výprodej - poslední kusy


Datum odeslání: viz. obchodní podmínky

ISBN: 978-1-4058-8412-9
EAN:

9781405884129


Nakladatelství:

Edu-Ksiazka Sp. S.o.o.




Sdílejte na Facebooku
12 ten-page units with full skills lessons per unit "Time to Revise" sections between every 2 units helps consolidate new language Motivating DVD clips taken from authentic TV programmes can be used to practise different skills Teenage "exam coach" characters support students with the Skillzone and Examzone boxes Summarise and Memorise boxes help students to focus on key language Speaking, Writing, Grammar and Vocabulary Files at the back of the Students' Book include extra activities and reference material for each unit





Zatím nikdo nehodnotil.
Nabízené knihy od stejného autora(autorky):
Barraclough Carolyn: Activate! A2 Students´ Book
Barraclough Carolyn: Activate! B1 Students´ Book
Barraclough Carolyn: Activate! B1 Students´ Book w/ Active Book Pack
Barraclough Carolyn: Activate! B1 Workbook w/ key
Barraclough Carolyn: Activate! B1+ Class CD 1-2
Barraclough Carolyn: Activate! B1+ Students´ Book
Barraclough Carolyn: Activate! B1+ Workbook w/ key
Barraclough Carolyn: Gold Experience 2nd Edition A1 Class CDs
Barraclough Carolyn: Gold Experience 2nd Edition A1 Students´ Book
Barraclough Carolyn: Gold Experience B1 Students´ Book w/ DVD-ROM Pack
Barraclough Carolyn: Gold Experience B1+ Students´ Book w/ DVD-ROM Pack
Barraclough Carolyn: Next Move 1 Active Teach
Barraclough Carolyn: Next Move 1 Class Audio CDs
Barraclough Carolyn: Next Move 1 Students´ Book
Barraclough Carolyn: Next Move 1 Students´ Book w/ MyEnglishLab Pack
Barraclough Carolyn: Next Move 2 Active Teach
Barraclough Carolyn: Next Move 2 Class Audio CDs
Barraclough Carolyn: Next Move 2 Students´ Book
Barraclough Carolyn: Next Move 2 Students´ Book w/ MyEnglishLab Pack
Barraclough Carolyn: Wider World 3 Students´ Book