Barraclough Carolyn:

Activate! B1 Students´ Book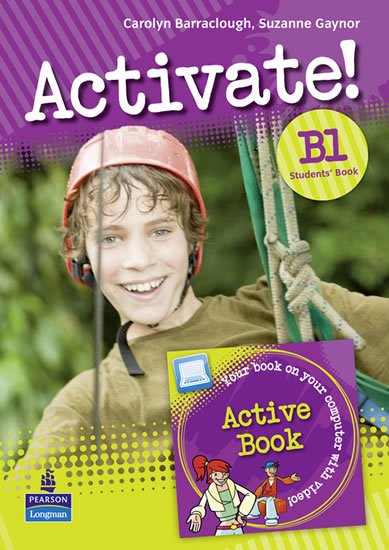 Doporučená cena: 1093,- Kč
Naše cena:

984

,- Kč
(sleva 10 % - ušetříte 109 Kč)

Autor: Barraclough Carolyn
Druh vazby:

Knihy - paperback


Počet stran:

176


Rozměr:

210 x 297 mm


Vydáno:

2012-01-01


Stav:

Skladem v externím skladu


Datum odeslání:

Do týdne



ISBN: 978-1-4082-5387-8
EAN:

9781408253878


Nakladatelství:

Edu-Ksiazka Sp. S.o.o.




Sdílejte na Facebooku
12 units each having 10 pages* Revision every 2 units*Active Book and Active Teach: the complete digital components for students and teachers* Motivating video clips on the Active Book and Active Teach taken from authentic TV programmes* Teenage "exam coach" characters support students in Skillzone and Examzone boxes*Speaking File with addoitional speaking activities to practise language functions* Writing File provides guidance on approaching different writing tasks required in exams*Vocabulary File with a complete wordlist for ever unit and optional activities for each video clip*Grammar File contains full explanations and examples of the grammar in each unit* CLIL (Content and Language Integrated Learning) tasks allow students to apply their language skills to other subjects* Extensive language skills developmentand practice in the Workbook and Grammar and Vocabulary Book* Comprehensive teacher's support package with materials in the Teacher's Book and Teacher's Exam Box* Interactive exam practice in the Active Book and at www.iTtests.com*Activate! B1 is ideal for students who are working towards B1 level and preparing for B1 level exams such as PET





Zatím nikdo nehodnotil.
Nabízené knihy od stejného autora(autorky):
Barraclough Carolyn: Activate! A2 Students´ Book
Barraclough Carolyn: Activate! B1 Workbook w/ key
Barraclough Carolyn: Activate! B1+ Class CD 1-2
Barraclough Carolyn: Activate! B1+ Students´ Book
Barraclough Carolyn: Activate! B1+ Workbook w/ key
Barraclough Carolyn: Gold Experience 2nd Edition A1 Class CDs
Barraclough Carolyn: Gold Experience 2nd Edition A1 Students´ Book
Barraclough Carolyn: Gold Experience B1 Students´ Book w/ DVD-ROM Pack
Barraclough Carolyn: Gold Experience B1+ Students´ Book w/ DVD-ROM Pack
Barraclough Carolyn: Next Move 1 Active Teach
Barraclough Carolyn: Next Move 1 Class Audio CDs
Barraclough Carolyn: Next Move 1 Students´ Book
Barraclough Carolyn: Next Move 1 Students´ Book w/ MyEnglishLab Pack
Barraclough Carolyn: Next Move 2 Active Teach
Barraclough Carolyn: Next Move 2 Class Audio CDs
Barraclough Carolyn: Next Move 2 Students´ Book
Barraclough Carolyn: Next Move 2 Students´ Book w/ MyEnglishLab Pack
Barraclough Carolyn: Wider World 3 Students´ Book
Barraclough Carolyn: Wider World 3 Students´ Book w/ MyEnglishLab Pack
Barraclough Carolyn: Wider World 4 Students´ Book