Fricker Rod:

Success Beginner Teacher´s Book Pack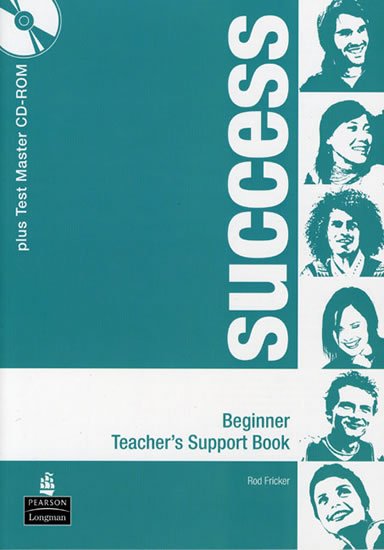 Doporučená cena: 1096,- Kč
Naše cena:

986

,- Kč
(sleva 10 % - ušetříte 110 Kč)

Autor: Fricker Rod
Druh vazby:

Knihy - paperback


Počet stran:

144


Rozměr:

210 x 297 mm


Vydáno:

2008-01-01


Stav:

Výprodej - poslední kusy


Datum odeslání: viz. obchodní podmínky

ISBN: 978-1-4058-8146-3
EAN:

9781405881463


Nakladatelství:

Edu-Ksiazka Sp. S.o.o.




Sdílejte na Facebooku
Success offers * inspiring and up-to-date topics that are relevant to the age group * activities that help students both understand (Work it Out) and internalise grammar rules (Check it Out) as well as avoid common mistakes (Mind the Trap) * a syllabus that focuses on communication in real-world contexts (Speak Out) * clear syllabus supported by exam practice and exam strategies * graded programme and regular opportunities for evaluation and self-evaluation * Teacher Support * variety in the classroom through the use of the different components (Students' Book, but also the video, the CD-ROM, photocopiables and tests) * flexibility with photocopiables and the Test Master CD-ROMs * wealth of assessment support with the skills-based revision section in the Students' Book and materials in the Evaluation and Testing Book





Zatím nikdo nehodnotil.
Nabízené knihy od stejného autora(autorky):
Fricker Rod: Choices Elementary Workbook w/ Audio CD Pack
Fricker Rod: Choices Intermediate Workbook w/ Audio CD Pack
Fricker Rod: Choices Upper Intermediate Workbook w/ Audio CD Pack
Fricker Rod: Energy 3 Teacher´s Pack
Fricker Rod: Focus 1 Workbook
Fricker Rod: Focus 1 Workbook (2nd)
Fricker Rod: Look! 3 Test Book
Fricker Rod: New Success Elementary Workbook w/ Audio CD Pack
Fricker Rod: Prepare 7 Teacher´s Book with Downloadable Resource Pack
Fricker Rod: Success Elementary Teacher´s Book Pack
Fricker Rod: Success Intermediate Teacher´s Book Pack
Fricker Rod: Success Pre-Intermediate Teacher´s Book Pack
Fricker Rod: Success Upper Intermediate Teacher´s Book Pack
Fricker Rod: Wider World 1 Teacher´s Book w/ MyEnglishLab/ExtraOnline Home Work/DVD-ROM
Fricker Rod: Wider World 1 Teacher´s Resource Book
Fricker Rod: Wider World 2 Teacher´s Book w/ MyEnglishLab/Online Extra Homework/DVD-ROM
Fricker Rod: Wider World 2 Teacher´s Resource Book
Fricker Rod: Wider World 3 Teacher´s Book w/ MyEnglishLab/Online Extra Homework/DVD-ROM
Fricker Rod: Wider World 3 Teacher´s Resource Book
Fricker Rod: Wider World 4 Teacher´s Book w/ MyEnglishLab/ExtraOnline Home Work/DVD-ROM