Groen Hendrik:

On the Bright Side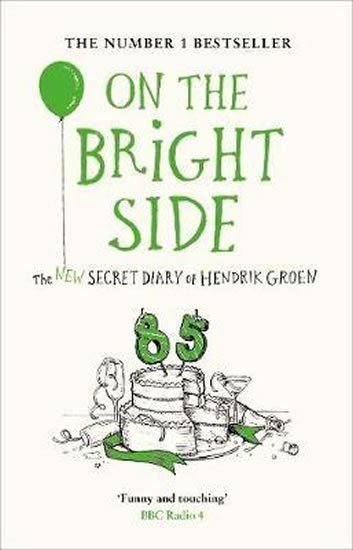 Doporučená cena: 359,- Kč
Naše cena:

323

,- Kč
(sleva 10 % - ušetříte 36 Kč)

Autor: Groen Hendrik
Druh vazby:

Knihy - paperback


Počet stran:

412


Rozměr:

152 x 233 mm


Vydáno:

2018-01-11


Stav:

Výprodej - poslední kusy


Datum odeslání: viz. obchodní podmínky

ISBN: 978-0-718-18664-7
EAN:

9780718186647


Nakladatelství:

Folio, spol.s r.o.




Sdílejte na Facebooku
85-year-old Hendrik Groen is fed up to his false teeth with coffee mornings and bingo. He dreams of escaping the confines of his care home and practicing hairpin turns on his mobility scooter. Inspired by his fellow members of the recently formed Old-But-Not-Dead Club, he vows to put down his Custard Cream and commit to a spot of octogenarian anarchy.But the care home's Director will not stand for drunken bar crawls, illicit fireworks and geriatric romance on her watch. The Old-But-Not-Dead Club must stick together if they're not to go gently into that good night. Things turn more serious, however, when rumours surface that the home is set for demolition. It's up to Hendrik and the gang to stop it - or drop dead trying . . .He may be the wrong side of 85, but Hendrik Groen has no intention of slowing up - or going down without a fight. Praise for Hendrik Groen'A story with a great deal of heart, it pulled me in with its self-deprecating humour, finely drawn characters and important themes. Anyone who hopes to grow old with dignity will have much to reflect on' Graeme Simsion'There are many laughs in this book but it's so much more than just a comedy. It's a story about how friendship, selflessness and dignity lie at the heart of the human experience. When I'm an old man, I want to be Hendrik Groen' John Boyne'A funny but also touching diary praised for its wit and realism' BBC Radio 4 Front Row'I laughed until I cried and then laughed and cried some more' David Suchet'Thoughtful, anxious and gruff... Laced with humour' The Best New Fiction Mail on Sunday'Amusing [and] wickedly accurate ... I was constantly put in mind of One Flew Over The Cuckoo's Nest, another comi-tragedy concerning the tyranny of institutions of the unwanted. Enjoy Groen's light touch but do not be fooled by it. We live in an ageing society. The Secret Diary of Hendrik Groen is a handbook of resistance for our time' ***** FIVE STARS Sunday Express'Highly entertaining ... a delightful and touching saga of one man's way of coping with old age ... we may assume that Hendrik Groen is a character of fiction. But it is a fiction so closely based on the observation of real life that it is utterly convincing' Daily Express'A joy to read, as much concerned with friendship and dignity as it is with the debilitating effects of aging ... An entertaining and uplifting story of a man in the winter of his days, stoic in the face of bureaucratic nonsense and an unabashed need to wear a nappy. Imagined or not, this is the diary of someone who wants nothing more than to be allowed see out his days with dignity and respect. It's not too much to ask, really, is it?' John Boyne Irish Times'Full of off-beat charm and quirky characters' Cathy Rentzenbrink, Stylist'Hendrik pens an expose of his care home, sets up the Old-But-Not-Dead club and relishes the arrival of a new female resident. This geriatric Adrian Mole made me laugh and think. Terrific' Fanny Blake, Woman and Home





Zatím nikdo nehodnotil.
Nabízené knihy od stejného autora(autorky):
Groen Hendrik: Malé překvapení: Tajný deník Hendrika Groena
Groen Hendrik: Nový tajný deník Hendrika Groena, 85 let
Groen Hendrik: Nový tajný deník Hendrika Groena, 85 let (audiokniha)
Groen Hendrik: Tajný deník Hendrika Groena
Groen Hendrik: Tajný deník Hendrika Groena (audiokniha)
Groen Hendrik: Žít a nechat žít
Groen Hendrik: Žít a nechat žít (audiokniha)