King Stephen:

Dark Tower 1:The Gunslinger: Film Tie-In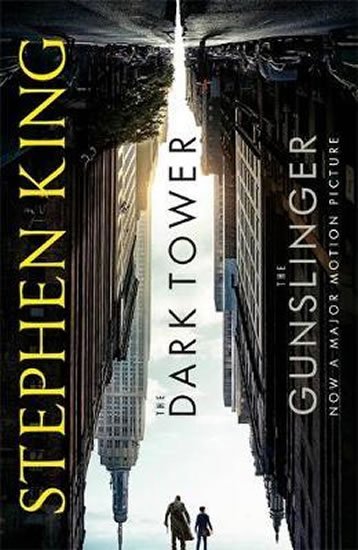 Doporučená cena: 269,- Kč
Naše cena:

242

,- Kč
(sleva 10 % - ušetříte 27 Kč)

Autor: King Stephen
Druh vazby:

Knihy - paperback


Počet stran:

304


Rozměr:

131 x 196 mm


Vydáno:

2017-06-20


Stav:

Skladem v externím skladu


Datum odeslání:

Do týdne



ISBN: 978-1-473-65554-6
EAN:

9781473655546


Nakladatelství:

Bohemian Ventures, spol. s r.o.




Sdílejte na Facebooku
The Dark Tower is now a major motion picture starring Matthew McConaughey and Idris Elba. 'The man in black fled across the desert, and the gunslinger followed.' The iconic opening line of Stephen King's groundbreaking series, The Dark Tower, introduces one of his most enigmatic and powerful heroes: Roland of Gilead, the Last Gunslinger. Roland is a haunting figure, a loner, on a spellbinding journey toward the mysterious Dark Tower, in a desolate world which frighteningly echoes our own. On his quest, Roland begins a friendship with a kid from New York named Jake, encounters an alluring woman and faces an agonising choice between damnation and salvation as he pursues the Man in Black. JOIN THE QUEST FOR THE DARK TOWER... THE DARK TOWER SERIES: THE DARK TOWER I: THE GUNSLINGER THE DARK TOWER II: THE DRAWING OF THE THREE THE DARK TOWER III: THE WASTE LANDS THE DARK TOWER IV: WIZARD AND GLASS THE DARK TOWER V: WOLVES OF THE CALLA THE DARK TOWER VI: SONG OF SUSANNAH THE DARK TOWER VII: THE DARK TOWER THE WIND THROUGH THE KEYHOLE: A DARK TOWER NOVEL





Zatím nikdo nehodnotil.
Nabízené knihy od stejného autora(autorky):
King Stephen: A Brief History Of Time
King Stephen: Bazaar (French Edition)
King Stephen: Billy Summers
King Stephen: Billy Summers
King Stephen: Black Holes: The BBC Reith Lectures
King Stephen: Carrie - CDmp3 (Čte Veronika Lazorčáková, Pavel Soukup)
King Stephen: Doktor Spánek - 2 CD (Čte Petr Jeništa)
King Stephen: Finders Keepers
King Stephen: Gwendy´s Button Box
King Stephen: Gwendy´s Final Task
King Stephen: How Did It All Begin?
King Stephen: It : film tie-in edition of Stephen King's IT
King Stephen: Jirka a modrý měsíc
King Stephen: Jirka a neprolomitelná šifra
King Stephen: Jirka a velký třesk
King Stephen: Jirkův tajný klíč k vesmíru
King Stephen: Jirkův vesmírný lov pokladů
King Stephen: Konec hlídky - 2 CDmp3 (Čte Jan Kanyza a Kajetán Písařovic a Magdaléna Boro
King Stephen: Lisey´s Story
King Stephen: Lisey´s Story