Reilly Patricia:

Real Life Intermediate Workbook w/ Multi-Rom Pack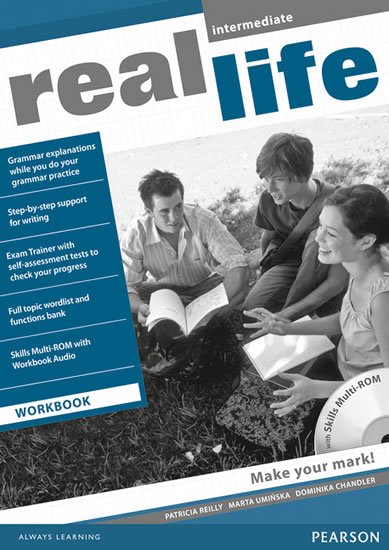 Doporučená cena: 310,- Kč
Naše cena:

279

,- Kč
(sleva 10 % - ušetříte 31 Kč)

Autor: Reilly Patricia
Druh vazby:

Knihy - paperback


Počet stran:

136


Rozměr:

210 x 297 mm


Vydáno:

2010-10-07


Stav:

Skladem v externím skladu


Datum odeslání:

Do týdne



ISBN: 978-1-4082-3946-9
EAN:

9781408239469


Nakladatelství:

Edu-Ksiazka Sp. S.o.o.




Sdílejte na Facebooku
Real Life brings English to life and makes learning enjoyable and achievable through practical tasks and evocative topics. Real Life gives students English to talk about issues that are important to their lives. With a light and colourful look and feel, it is more socially oriented with a focus on real people and situations and appeals to average and less motivated students who need a more manageable path to exam success.





Zatím nikdo nehodnotil.
Nabízené knihy od stejného autora(autorky):
Reilly Patricia: Focus 1 Teacher´s Book w/ MultiROM Pack
Reilly Patricia: Focus 1 Teacher´s Book with Pearson Practice English App (2nd)
Reilly Patricia: Focus 2 Teacher´s Book w/ MultiROM Pack
Reilly Patricia: Focus 3 Teacher´s Book with MultiROM Pack
Reilly Patricia: New Opportunities Pre-Intermediate CD-ROM
Reilly Patricia: New Opportunities Pre-Intermediate Language Powerbook
Reilly Patricia: New Opportunities Pre-Intermediate Language Powerbook Pack
Reilly Patricia: New Opportunities Pre-Intermediate Language Powerbook Pack CZ Edition
Reilly Patricia: New Opportunities Upper-Intermediate CD-ROM
Reilly Patricia: Real Life Intermediate Test Book/Test Audio CD Pack
Reilly Patricia: Real Life Pre-Intermediate Workbook CZ Edition
Reilly Patricia: Real Life Pre-Intermediate Workbook SK Edition
Reilly Patricia: Real Life Pre-Intermediate Workbook w/ Multi-Rom Pack
Reilly Patricia: Real Life Upper Intermediate Test Book/Test Audio CD Pack
Reilly Patricia: Real Life Upper Intermediate Workbook w/ Multi-Rom Pack