Crace Araminta:

Cutting Edge 3rd Edition Elementary Students´ Book w/ DVD & MyEnglishLab Pa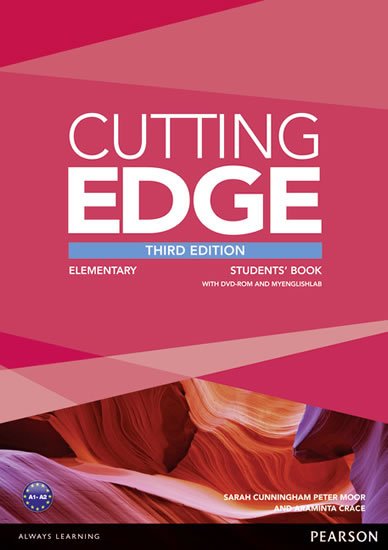 Doporučená cena: 1324,- Kč
Naše cena:

1192

,- Kč
(sleva 10 % - ušetříte 132 Kč)

Autor: Crace Araminta
Druh vazby:

Knihy - paperback


Počet stran:

176


Rozměr:

210 x 296 mm


Vydáno:

2014-03-13


Stav:

Skladem v externím skladu


Datum odeslání:

Do týdne



ISBN: 978-1-4479-4403-4
EAN:

9781447944034


Nakladatelství:

Edu-Ksiazka Sp. S.o.o.




Sdílejte na Facebooku
The new edition includes a new Study, Practice, Remember section and Language Live lessons that provide light-hearted contexts for practising functional language and writing. The new World Culture lessons encourage the exploration of contemporary topics and develop online research skills. The Students' DVD-ROM contains all the audio and video clips and a downloadable Vocabulary book. MyEnglishLab is an online platform that helps with vocabulary and grammar practice. It instantly grades student answers and gives them meaningful feedback, saving teachers time and energy. Insightful analytics give teachers the whole picture of each class' performance and help track individual student's performance.





Zatím nikdo nehodnotil.
Nabízené knihy od stejného autora(autorky):
Crace Araminta: Cutting Edge 3rd Edition Elementary Students´ Book w/ DVD Pack
Crace Araminta: Cutting Edge 3rd Edition Elementary Workbook no key
Crace Araminta: Cutting Edge 3rd Edition Elementary Workbook w/ key
Crace Araminta: Cutting Edge 3rd Edition Intermediate Active Teach
Crace Araminta: Cutting Edge 3rd Edition Pre-Intermediate Active Teach
Crace Araminta: Cutting Edge 3rd Edition Pre-Intermediate Students´ Book w/ DVD & MyEnglish
Crace Araminta: Cutting Edge 3rd Edition Pre-Intermediate Students´ Book w/ DVD Pack
Crace Araminta: Language to Go Intermediate Class CD
Crace Araminta: Language to Go Intermediate Students´ Book
Crace Araminta: New Cutting Edge Starter Teacher´s Book w/ Teacher´s Resource Disk Pack
Crace Araminta: New Total English Pre-Intermedaite Flexi Coursebook 1 Pack
Crace Araminta: New Total English Pre-Intermediate Class Audio CD
Crace Araminta: New Total English Pre-Intermediate Flexi Coursebook 2 Pack
Crace Araminta: New Total English Pre-Intermediate Students´ Book w/ Active Book and MyEngl
Crace Araminta: New Total English Pre-Intermediate Students´ Book w/ Active Book Pack
Crace Araminta: New Total English Upper Intermediate Class Audio CD
Crace Araminta: New Total English Upper Intermediate Students´ Book w/ Active Book Pack
Crace Araminta: Premium C1 Coursebook Exam Pack