Crace Araminta:

Cutting Edge 3rd Edition Pre-Intermediate Students´ Book w/ DVD Pack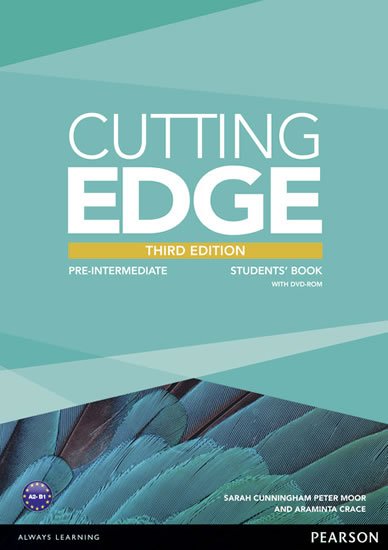 Doporučená cena: 675,- Kč
Naše cena:

608

,- Kč
(sleva 10 % - ušetříte 68 Kč)

Autor: Crace Araminta
Druh vazby:

Knihy - paperback


Počet stran:

176


Rozměr:

211 x 297 mm


Vydáno:

2013-01-11


Stav:

Skladem v externím skladu


Datum odeslání:

Do týdne



ISBN: 978-1-4479-3690-9
EAN:

9781447936909


Nakladatelství:

Edu-Ksiazka Sp. S.o.o.




Sdílejte na Facebooku
New World culture lessons encourage the exploration of contemporary topics and develop online research skills. Language live lessons provide light-hearted contexts for practising functional language and writing. The Pre-Intermediate level takes students from A2 to B1 The DVD-ROM contains all the audio and video clips and a digital Mini dictionary of key vocabulary.





Zatím nikdo nehodnotil.
Nabízené knihy od stejného autora(autorky):
Crace Araminta: Cutting Edge 3rd Edition Elementary Students´ Book w/ DVD & MyEnglishLab Pa
Crace Araminta: Cutting Edge 3rd Edition Elementary Students´ Book w/ DVD Pack
Crace Araminta: Cutting Edge 3rd Edition Elementary Workbook no key
Crace Araminta: Cutting Edge 3rd Edition Elementary Workbook w/ key
Crace Araminta: Cutting Edge 3rd Edition Intermediate Active Teach
Crace Araminta: Cutting Edge 3rd Edition Pre-Intermediate Active Teach
Crace Araminta: Cutting Edge 3rd Edition Pre-Intermediate Students´ Book w/ DVD & MyEnglish
Crace Araminta: Language to Go Intermediate Class CD
Crace Araminta: Language to Go Intermediate Students´ Book
Crace Araminta: New Cutting Edge Starter Teacher´s Book w/ Teacher´s Resource Disk Pack
Crace Araminta: New Total English Pre-Intermedaite Flexi Coursebook 1 Pack
Crace Araminta: New Total English Pre-Intermediate Class Audio CD
Crace Araminta: New Total English Pre-Intermediate Flexi Coursebook 2 Pack
Crace Araminta: New Total English Pre-Intermediate Students´ Book w/ Active Book and MyEngl
Crace Araminta: New Total English Pre-Intermediate Students´ Book w/ Active Book Pack
Crace Araminta: New Total English Upper Intermediate Class Audio CD
Crace Araminta: New Total English Upper Intermediate Students´ Book w/ Active Book Pack
Crace Araminta: Premium C1 Coursebook Exam Pack