Cunningham Sarah:

New Cutting Edge Pre-Intermediate Students´ Book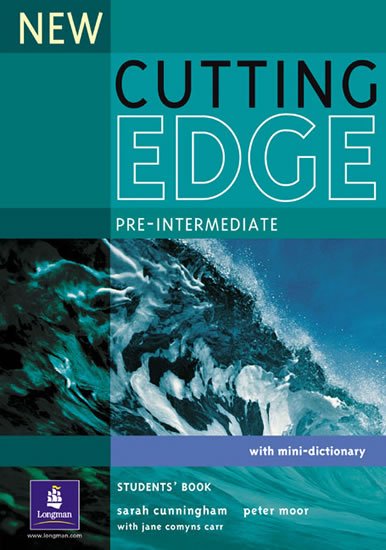 Doporučená cena: 1038,- Kč
Naše cena:

934

,- Kč
(sleva 10 % - ušetříte 104 Kč)

Autor: Cunningham Sarah
Druh vazby:

Knihy - paperback


Počet stran:

176


Rozměr:

210 x 297 mm


Vydáno:

2005-04-21


Stav:

Skladem v externím skladu


Datum odeslání:

Do týdne



ISBN: 978-0-582-82509-3
EAN:

9780582825093


Nakladatelství:

Edu-Ksiazka Sp. S.o.o.




Sdílejte na Facebooku
* New reading and listening texts bring the real world to the classroom * New activities and tasks present, practise and extend the language in meaningful contexts * New Study! Practise! Remember! sections combine study skills with consolidation to encourage students to learn more effectively * New Mini-checks allow students to monitor their progress * New Pronunciation boxes develop ear-training skills * New design and layout makes the course even easier to follow





Zatím nikdo nehodnotil.
Nabízené knihy od stejného autora(autorky):
Cunningham Sarah: Cutting Edge 3rd Edition Advanced Class CD
Cunningham Sarah: Cutting Edge 3rd Edition Advanced Students´ Book w/ DVD & MyEnglishLab Pack
Cunningham Sarah: Cutting Edge 3rd Edition Advanced Students´ Book w/ DVD Pack
Cunningham Sarah: Cutting Edge 3rd Edition Elementary Class CD
Cunningham Sarah: Cutting Edge 3rd Edition Intermediate Active Teach
Cunningham Sarah: Cutting Edge 3rd Edition Intermediate Class CD
Cunningham Sarah: Cutting Edge 3rd Edition Intermediate Students´ Book w/ DVD & MyEnglishLab
Cunningham Sarah: Cutting Edge 3rd Edition Intermediate Students´ Book w/ DVD Pack
Cunningham Sarah: Cutting Edge 3rd Edition Pre-Intermediate Active Teach
Cunningham Sarah: Cutting Edge 3rd Edition Pre-Intermediate Class CD
Cunningham Sarah: Cutting Edge 3rd Edition Starter Class CD
Cunningham Sarah: Cutting Edge 3rd Edition Starter Students´ Book w/ DVD Pack
Cunningham Sarah: Cutting Edge 3rd Edition Upper Intermediate Class CD
Cunningham Sarah: Cutting Edge 3rd Edition Upper Intermediate Workbook no key
Cunningham Sarah: Cutting Edge Advanced Students´ Book
Cunningham Sarah: Cutting Edge Advanced Students´ Book w/ CD-ROM Pack
Cunningham Sarah: Cutting Edge Advanced Workbook no key
Cunningham Sarah: Cutting Edge Elementary Workbook with key (New)
Cunningham Sarah: Cutting Edge New Edition Advanced Active Teach
Cunningham Sarah: Cutting Edge Starter Class CD 1-2