Reilly Patricia:

New Opportunities Upper-Intermediate CD-ROM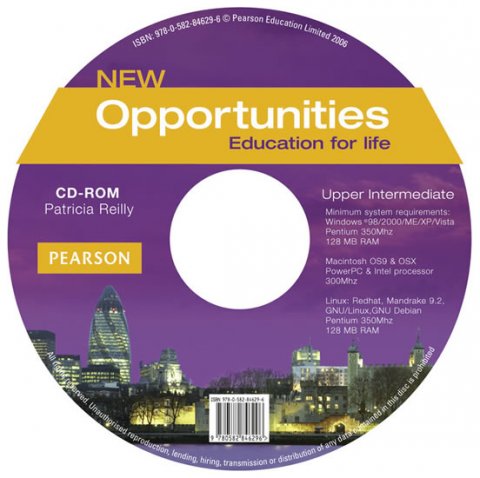 Doporučená cena: 670,- Kč
Naše cena:

603

,- Kč
(sleva 10 % - ušetříte 67 Kč)

Autor: Reilly Patricia
Druh vazby:

CD-ROM


Rozměr:

129 x 130 mm


Vydáno:

2006-08-31


Stav:

Výprodej - poslední kusy


Datum odeslání: viz. obchodní podmínky

ISBN: 978-0-582-84629-6
EAN:

9780582846296


Nakladatelství:

Edu-Ksiazka Sp. S.o.o.




Sdílejte na Facebooku
Discovery approach to grammar and an up-front focus on vocabulary gives students maximum opportunity to learn* Educational and cultural input encourages students to learn more than just English and make lessons more memorable* Learner strategies help students become better language learners* Quick Tests make assessment easier* The Video Workbook allows students to see and feel the culture that goes with the English language, through six documentary-type episodes on different elements of life in Britain





Zatím nikdo nehodnotil.
Nabízené knihy od stejného autora(autorky):
Reilly Patricia: Focus 1 Teacher´s Book w/ MultiROM Pack
Reilly Patricia: Focus 1 Teacher´s Book with Pearson Practice English App (2nd)
Reilly Patricia: Focus 2 Teacher´s Book w/ MultiROM Pack
Reilly Patricia: Focus 3 Teacher´s Book with MultiROM Pack
Reilly Patricia: New Opportunities Pre-Intermediate CD-ROM
Reilly Patricia: New Opportunities Pre-Intermediate Language Powerbook
Reilly Patricia: New Opportunities Pre-Intermediate Language Powerbook Pack
Reilly Patricia: New Opportunities Pre-Intermediate Language Powerbook Pack CZ Edition
Reilly Patricia: Real Life Intermediate Test Book/Test Audio CD Pack
Reilly Patricia: Real Life Intermediate Workbook w/ Multi-Rom Pack
Reilly Patricia: Real Life Pre-Intermediate Workbook CZ Edition
Reilly Patricia: Real Life Pre-Intermediate Workbook SK Edition
Reilly Patricia: Real Life Pre-Intermediate Workbook w/ Multi-Rom Pack
Reilly Patricia: Real Life Upper Intermediate Test Book/Test Audio CD Pack
Reilly Patricia: Real Life Upper Intermediate Workbook w/ Multi-Rom Pack