Crace Araminta:

New Total English Pre-Intermedaite Flexi Coursebook 1 Pack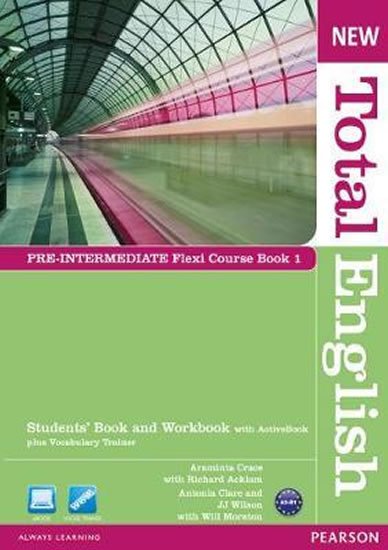 Doporučená cena: 859,- Kč
Naše cena:

773

,- Kč
(sleva 10 % - ušetříte 86 Kč)

Autor: Crace Araminta
Druh vazby:

Knihy - paperback


Rozměr:

209 x 297 mm


Vydáno:

2011-07-07


Stav:

Výprodej - poslední kusy


Datum odeslání: viz. obchodní podmínky

ISBN: 978-1-4082-8580-0
EAN:

9781408285800


Nakladatelství:

Edu-Ksiazka Sp. S.o.o.




Sdílejte na Facebooku
With a clear structure and can-do objectives in every unit, New Total English is a straightforward, teacher-friendly course with time-proven methodology. It gradually builds up all the necessary knowledge to help students achieve their learning objectives.





Zatím nikdo nehodnotil.
Nabízené knihy od stejného autora(autorky):
Crace Araminta: Cutting Edge 3rd Edition Elementary Students´ Book w/ DVD & MyEnglishLab Pa
Crace Araminta: Cutting Edge 3rd Edition Elementary Students´ Book w/ DVD Pack
Crace Araminta: Cutting Edge 3rd Edition Elementary Workbook no key
Crace Araminta: Cutting Edge 3rd Edition Elementary Workbook w/ key
Crace Araminta: Cutting Edge 3rd Edition Intermediate Active Teach
Crace Araminta: Cutting Edge 3rd Edition Pre-Intermediate Active Teach
Crace Araminta: Cutting Edge 3rd Edition Pre-Intermediate Students´ Book w/ DVD & MyEnglish
Crace Araminta: Cutting Edge 3rd Edition Pre-Intermediate Students´ Book w/ DVD Pack
Crace Araminta: Language to Go Intermediate Class CD
Crace Araminta: Language to Go Intermediate Students´ Book
Crace Araminta: New Cutting Edge Starter Teacher´s Book w/ Teacher´s Resource Disk Pack
Crace Araminta: New Total English Pre-Intermediate Class Audio CD
Crace Araminta: New Total English Pre-Intermediate Flexi Coursebook 2 Pack
Crace Araminta: New Total English Pre-Intermediate Students´ Book w/ Active Book and MyEngl
Crace Araminta: New Total English Pre-Intermediate Students´ Book w/ Active Book Pack
Crace Araminta: New Total English Upper Intermediate Class Audio CD
Crace Araminta: New Total English Upper Intermediate Students´ Book w/ Active Book Pack
Crace Araminta: Premium C1 Coursebook Exam Pack