Crace Araminta:

New Total English Pre-Intermediate Flexi Coursebook 2 Pack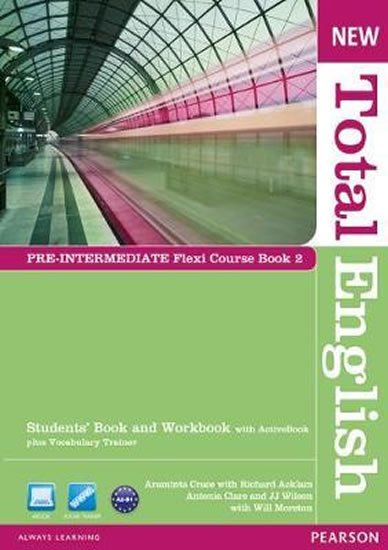 Doporučená cena: 771,- Kč
Naše cena:

694

,- Kč
(sleva 10 % - ušetříte 77 Kč)

Autor: Crace Araminta
Druh vazby:

Knihy - paperback


Rozměr:

210 x 296 mm


Vydáno:

2011-06-30


Stav:

Výprodej - poslední kusy


Datum odeslání: viz. obchodní podmínky

ISBN: 978-1-4082-8583-1
EAN:

9781408285831


Nakladatelství:

Edu-Ksiazka Sp. S.o.o.




Sdílejte na Facebooku
The New Total English Flexi Course Book is ideal for short courses and includes the Workbook in the back of the book.ActiveBook is the Students book in digital format with integrated audio and video from the course and is included with the Flexi Course BookEasy navigation of the Students' Book pages with zoom facility Video and audio available at the touch of a button





Zatím nikdo nehodnotil.
Nabízené knihy od stejného autora(autorky):
Crace Araminta: Cutting Edge 3rd Edition Elementary Students´ Book w/ DVD & MyEnglishLab Pa
Crace Araminta: Cutting Edge 3rd Edition Elementary Students´ Book w/ DVD Pack
Crace Araminta: Cutting Edge 3rd Edition Elementary Workbook no key
Crace Araminta: Cutting Edge 3rd Edition Elementary Workbook w/ key
Crace Araminta: Cutting Edge 3rd Edition Intermediate Active Teach
Crace Araminta: Cutting Edge 3rd Edition Pre-Intermediate Active Teach
Crace Araminta: Cutting Edge 3rd Edition Pre-Intermediate Students´ Book w/ DVD & MyEnglish
Crace Araminta: Cutting Edge 3rd Edition Pre-Intermediate Students´ Book w/ DVD Pack
Crace Araminta: Language to Go Intermediate Class CD
Crace Araminta: Language to Go Intermediate Students´ Book
Crace Araminta: New Cutting Edge Starter Teacher´s Book w/ Teacher´s Resource Disk Pack
Crace Araminta: New Total English Pre-Intermedaite Flexi Coursebook 1 Pack
Crace Araminta: New Total English Pre-Intermediate Class Audio CD
Crace Araminta: New Total English Pre-Intermediate Students´ Book w/ Active Book and MyEngl
Crace Araminta: New Total English Pre-Intermediate Students´ Book w/ Active Book Pack
Crace Araminta: New Total English Upper Intermediate Class Audio CD
Crace Araminta: New Total English Upper Intermediate Students´ Book w/ Active Book Pack
Crace Araminta: Premium C1 Coursebook Exam Pack